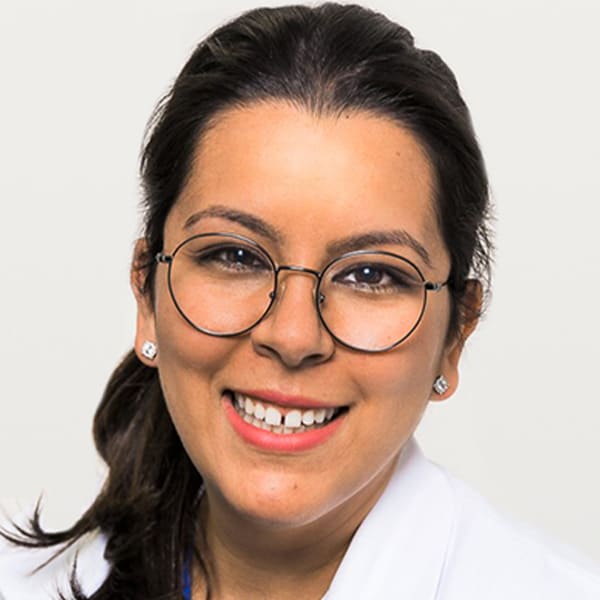 Dr. Fairouz Chouikh
Oral & Maxillofacial Surgeon
DDS, University of Montréal
Dr. Fairouz Chouikh received her dentistry degree from the University of Montreal in 2011. She then completed a general practice residency in dentistry at Montefiore Medical Center (Bronx, New York).
Her interest in surgery led her to complete a 1-year internship in maxillofacial surgery at Jacobi Medical Center (Bronx, New York) and Mount Sinai Beth Israel Hospital (New York).
Dr. Fairouz Chouikh then completed a 6-year residency training at the Hôpital de L'Enfant - Jesus, in Quebec City, and graduated as a specialist in oral and maxillofacial surgery from Laval University in 2019. That same year, she was received as a Fellow of the Royal College of Canada in her specialty.
During her residency, Dr. Fairouz Chouikh also earned a master's degree in science. Her thesis was on medication-related osteonecrosis of the jaw, in the oncology setting. During her studies, she also had the opportunity to enhance her training in implantology. She did a 1-month internship in Brussels, Belgium, with Dr. Chantal Malevez, an internationally renowned surgeon, and expert in zygomatic implants.
Dr. Fairouz Chouikh has just completed a 1-year Fellowship training in head and neck trauma and advanced maxillofacial surgery at the prestigious Head and Neck Surgical Associates program at Legacy Emanuel Medical Center in Portland, Oregon, USA.
Thus, Dr. Fairouz Chouikh's surgical skills include, amongst others, head and neck trauma, cervicofacial infection, neurorrhaphy, orthognathic surgery, temporomandibular joint surgery, resection of the submandibular or sublingual salivary glands, resection of skin lesion and reconstruction, maxillofacial pathology, botox injection (aesthetic or for myofascial pain), intravenous sedation, dentoalveolar surgery and implantology.